Sun, Jan 27, 2013 / by Chris Johnson PT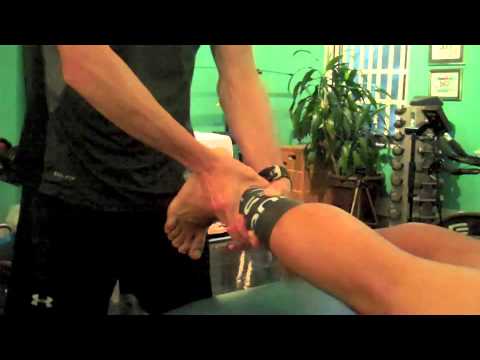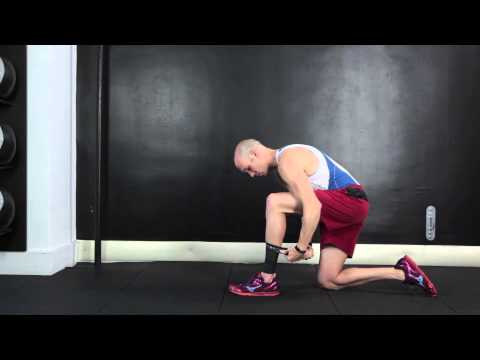 The ability to progress the leg over the foot plays a critical role in walking and even more so in running given the more vertical orientation of the tibia. In medical terms, we refer to this motion as ankle dorsiflexion. Ankle dorsiflexion typically occurs at footstrike with running and allows for internal rotation of the tibia and subsequent pronation of the foot (via the subtalar joint), which in turn allows the foot to accommodate to different running surfaces (Dicharry 2010, Mann 1980, & Novachek 1998). Dorsiflexion primarily occurs at the talocrural joint  and is accompanied by knee flexion and hip motion. Collectively, these motions all play an important role in attenuating the force of impact during the stance phase of the running gait cycle.
In the context of running, researchers have documented that ~20 degrees of dorsiflexion is necessary for the leg to progress over the foot (Dugan & Bhat 2005, James & Jones 1990). Clinically, it has been my experience that runners need at least 10 degrees of isolated dorsiflexion at 45 degrees of knee flexion to replicate the performance demands of running if they are wearing a shoe with a heel to toe differential of greater than ~10-12 mm. It should also be mentioned that this value may increase in the context of minimalist and barefoot shoes, which have a smaller heel to toe differential if one at all. In the event a runner lacks adequate dorsiflexion, compensatory motions will likely occur either upstream (i.e. excessive knee valgus and femoral internal rotation) or downstream (i.e. excessive subtalar pronation or toeing out). Inevitably, this leads to altered mechanics, dysfunctional running, and may predispose a runner to injury. Restoring any loss of dorsiflexion is therefore critical in managing an injured runner to foster optimal loading of the lower extremity tissues.
While various techniques exist to restore a loss of dorsiflexion, I'm going to share a couple of my preferred treatment approaches. The first technique is to be rendered by the therapist while the other can be performed independently by the patient as a self mobilization with movement (MWM). Currently, no research exists on the efficacy of either technique in restoring a loss of dorsiflexion. Anecdotally, however, my patients are enjoying clinically meaningful improvements in ankle dorsiflexion range of motion, which also carry over provided that appropriate retraining drills are prescribed. See below for a sample retraining drill (make sure the runner keeps the foot of the balancing leg straight)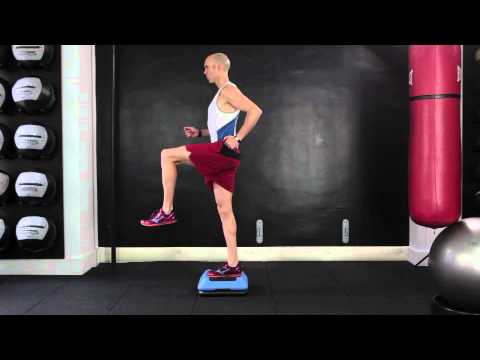 In the context of a runner who underpronates, I typically apply a rotary force at the distal tib-fib region using the compression wrap into tibial internal rotation while dorsiflexing the ankle. If a runner overpronates and externally rotates their foot (toeing out), I would focus on keeping their foot straight while applying a rotary force into tibial external rotation.
The bottom line is that progressing the leg over the foot while keeping it straight is critical to properly load the first ray in addition to the other tissues of the foot, ankle, knee, and hip. Given the role of the talocrural joint in the kinetic chain as it relates to running, restoring any loss of dorsiflexion is critical to facilitate optimal lower extremity mechanics. Keep in mind that a formal assessment should always dictate the most appropriate intervention as every runner needs to be approached on an individualized basis. Give it a shot and would love to hear your feedback! Please stay tuned for an upcoming post in which I'll demonstrate my favorite closed chain MWM for runners to restore one's ability to progress the leg over the foot. The picture below, which was taken during a recent talk that I gave at Olympic Physical Therapy – Kirkland on the outskirts of Seattle, provides a glimpse into this technique. See you on the road!
Onward,
Chris
References
1. Dicharry J. Kinematics and kinetics of gait: from lab to clinic. Clin Sports Med 2010;29(3):347– 64.
2. Dugan S, Bhat K. Biomechanics and analysis of running gait. Phys Med Rehabil Clin North Am 2005;16(3):603–21.
3. James SL, Jones, DC. Biomechanical aspects of distance running injuries. In: 
Cavanaugh PR, editor. Biomechanics of distance running. Champaign (IL): Human 
Kinetics Books; 1990. p. 249–70.
4. Mann R, Hagy J. Biomechanics of walking, running, and sprinting. Am J Sports Med1980;8:345.
5. Novacheck TF. The biomechanics of running. Gait Posture 1998;7:77–95.